From the Voynich Manuscript. [link]
Regular readers know that this blog often reads like a book missing the first hundred pages. The average post here is written in response to at least two or three posts over at other sites; references dense, difficult concepts without a moment reserved to explain them to the unfamiliar; and generally assumes a great deal of familiarity on the reader's part with the existing work of myself and countless other bloggers and non-bloggers.
There are many reasons for this. What I write here is usually intended to be a contribution to any number of intersecting, ongoing conversations with other theorists, living or dead, live-publishing or not. It's simply easier to write if you assume your audience already knows what you're talking about. If I tried to explain everything I wrote here the way the average book at least briefly clarifies any given reference, practically every post would grow to – well, book length.
As a result, the content here is very rarely accessible to newcomers, even those familiar with the subject matter. Of course, I try to link to past conversations wherever possible, and when in doubt, Google and Wikipedia will really take one pretty far. But I'd be kidding myself if I thought the average first-time reader was motivated enough to go on after more than a few minutes of frustration and alienation.
This isn't all bad, mind you. For one, the assumption of understanding allows posts to move far more quickly, and a fast pace is very useful in live-publishing contexts. This isn't to say that bloggers are rushing to throw things together, whereas pre-live published works were carefully wraught and considered. Rather, speed is valuable because it can capture enthusiasm rather than deadening it, it can keep apace with quickly developing thoughts and debates, and most importantly, it de-individualizes cognition.
Speed does not (necessarily) lead to rushing and cutting corners – on a purely technical plane, editing can keep up with this pace, as pieces are written in much smaller chunks; and, on a conceptual plane, the filtering processes that shape and engineer conceptual production and assembly are outsourced. I am no longer the sole creative and causal force in the production of my thought – quite the contrary, the theory-blogosphere thinks through me. Countless other thinkers, through books and blogs, are part of the machinery whose output finally concentrates itself through my brain, hands, and laptop, just as I am part of other localized concentrations.
My philosophical work, my theoretical production, owes as much to Alex, Mark, Levi, Nicole, Reza, and Nick as it does to myself, my friends and family, teachers and professors, the books I've read and life I've led. This is not to imply that the blogosphere is a unitary monolith. We all have our own projects, our own affinities, our spats and disagreements. Yet every concentration of thought that connects itself to/emerges from this network, however substantially different or even antagonistic, nonetheless has a crucial formal commonality: a radically new media by way of which it is produced, distributed, and consumed, or in short, a new economic mode.
Radically new, because:
1) Its radically egalitarian capacity to be used, such that anyone can create a blog, post comments or exchange emails, and join the collective productive appartus, so long as they are sufficiently capable of interfacing with the existing infrastructure. Even someone who can't afford a computer can do so in principle – one of the reasons that public libraries, infrastructure expansion, and programs like One Laptop Per Child are so important. Exclusion from internet technology is almost as bad today as illiteracy, maybe worse.
2) Its content is free, completely open to use, distribution, response, and 'remixing'. The few bloggers I know who license their material do so through Creative Commons (and I would strongly urge any of you who don't to do so).
3) Far from a free for all, the blogosphere (especially this theory region) is a very sophisticated ecosystem, complete with its own selection mechanisms (linking, responding, slash-dot promotion), quality filters, and local standards and codes.
4) It bypasses dependence on large corporate power houses, universities, and governmental agencies to publish, promote, and participate in the production process. Of course, this should not be taken for granted. We're in a very opportune eye of what could be a very violent storm of contestation. Somehow, the internet landed in a near-perfect balance between governmental and corporate support and non-intervention – but this threatens to change drastically at any moment, which is why we should all be fighting for Net Neutrality.
I could go on, but the point is plain. The terrain of theoretical discourse (and discourse in general) has changed significantly, and the effects are only beginning to manifest.
A significant effect, to which I've already alluded above, is to simply reveal a fact whose evidence is continually held forth by science, despite the heavy reliance of popular discourse on its disavowal: the distributed nature of cognition. Thought is no more human than it is immaterial. Thought does not happen in the soul, nor the brain – it is something that surges through the brain, the body, language, social bodies, environments, machines, economies… it traverses and ties together all of them. Human beings may happen to be particularly intense conductors of cognitive activity, but they harness it no differently than animals, ecosystems, geological processes, stellar dynamics, or digital processors.
The defense and promulgation of this insight in the context of Continental philosophy has been the sole unifying feature of the Specualtive Realist movement, which makes the latter's massive influence on the theory blogosphere appear more than a matter of right-place, right-time. While some have suggested that Speculative Realism is nothing consistent in itself, only a term of convenience, I beg to differ: Speculative Realism is the first avatar of distributed cognition, the paradigm of thought demanded by the media that now primarily bears it. Harman's object-egalitarianism, Grant's natural history of thought, Brassier's emphasis on cognition engines and the decoupling of man from thought qua organon of extinction, and Meillassoux's implosion of the correlational couple all share a common trajectory in this regard: while all are undoubtedly productions of thought, they nonetheless refuse to identify their human avatars as their sole and priviledged source.
Distributed cognition does not necessarily resemble 'panpsychism' or anything of that sort (although Kevin's formulation of the latter has some promise, I think).  Things do not think, because thinking assembles its own avatars. This is not to say 'there is no individuation outside of thought', far from it – rather, thought occurs whenever individuals become blurry, contributing to something that escapes their discretion. Thought, or cognition, is simply the capacity to process information, or in other words, to receive and output information. Any given individual is precisely the individuation of a certain set of environmental stimuli, filtered through a relatively localized output system. A rock thus 'cognizes' the wind, rain, and weathering forces acting upon it by eroding, moving or staying put, and exerting a filtered degree of the received force upon this local range of influence.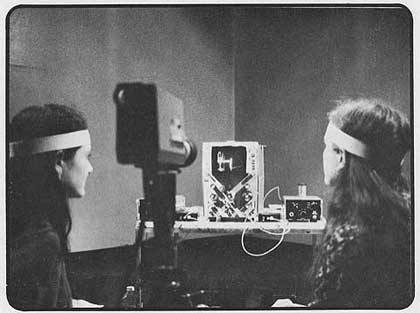 Jacqueline Humbert, Brainwave Etch a Sketch. via We Make Money, Not Art
Every individual is such by virtue of being a local contractor of information, by way of which a large mass of stimuli is converted into a simpler set of stimuli. Yet we expect more of thought, don't we? Thought properly involves not only the capacity to be affected and, in turn, to affect, but also to learn, adapt, decide, and so on. It involves a second order process by way of which the entire input-output system just described is itself taken as an input, with modifications to that system being its output. And the more complex these recursion systems become, with third-level processors acting upon the second level, and so on, the more complex thought becomes in turn. Eventually you can have many different higher-level processors attempting conflicting modifications of lower-levels, inner turmoil – difficult decisions, choices, existential crises.
The above description of thought is taken from Brassier's excellent discussion of Paul Churchland in Chapter 8 of Alien Theory. Brassier goes on to challenge Churchland's theory on two grounds: illegitimate extrapolation of normativity, and neurocentrism. Churchland first of all claims that the more capable of absorbing information input, the better the system, and we should therefore strive to model ourselves to be better 'information sponges'. Second, he focuses exclusively on selection and processing functions instantiated by the neural substrate, even though there is no principle demarcation between one substrate and another. In other words, we do not only think with our brains, but with our bodies, our possessions, our social relations, our language, and so on. Churchland makes the classic mistake of separating the representational system or medium from the immediate-mediated of information-in-itself, outside of its processor.
On the contrary, we should say that information only exists insofar as it is extracted as such by a processor, or chaos is filtered or contracted by a negentropic tensor or attractor. Ultimately, both information and its determination as such is given out of universal noise, and is identical to noise. The pursuit of information-in-itself cannot be more than a fictious end, as both the pursuit and what it pursues are ultimately given – not out of nothing, but – for nothing, for no purpose or reason.
Distriubted cognition means that thinking qua information processing, specifically in the form of higher-level adaptive systems, is not locally confined to the brain, but extends throughout the networks of influence from which brains are inseparable – biological, social, physical, ecological, economics, technological, lingusitic… Information selection and recursive modifications of selection systems are not limited to their neuronal substrate. Quite the contrary, their are numerous other non-neurally based systems that act upon and modify the brain, just as the brain acts upon and selects extra-neural systems as much as intra-neural ones.
Take, for example, the supposed problem of 'first person consciousness' – is my unique, internal experience of the world reducible to a jumble of relatively coordinated semi-autonomous neural systems? Is my capacity to decide, to exercise a unique determining power on the basis of my individuated will, really just an illusory misunderstanding of neural machinery? The problem is of course absurdly posed, as if neural networks exist in isolation from other bodily and extra-bodily networks. Once we accept the fundamental compatability between neural and other processing systems, individuated subjectivity becomes easier to understand. I locate myself as a causal power precisely because my neural activity is enlisted in the extension and maintainance of the first-person as linguistic-social coordinator. The mass of neural information is filtered by the first-person function, thereby generating a linguistically consistent output.
Of course, there is more than just brains and languages at work here, there are whole complex systems of gesture and body language, of fashion and self-presentation, of technology, of intimacy, of economy. There are countless interpenetrating and overlapping economies of information that contrain or complexify each other in different registers. The first-person is simply one functional coordination of information processing amongst others, be it one with a massive de facto influence on the human-scale world.
My point here is that we are relatively coordinated and consistent clusters of information compression or contraction, but that none are strictly localized to me or possessed exclusively by me. I am ultimately loosened and disseminated into countless other clustering systems, both above and below the scale of the first-person or its bodily support. I am currently producing this piece of writing as a complex output of multiple coordinated processing systems, which in turn is received as input by another cluster constituted by my computer, the infrastructure of the internet, the various web apps (wordpress) and computer programs (the browser), et cetera. And that is in turn giving as output what you see on your screen right now, being received as input by another cluster constituted by you, your brain and body, your lingusitic territoriality, your computer, your history and peers and influences and commitments, et cetera. Even drawing the lines of demarcation as I did is only proximal and pragmatic, ignoring the sublimely interpentrating infinity of systems and their networks.
So to return to my point of departure, this blog has taken a certain regular shape for a couple years now. I'll post, at best, several times a month, and the posts are typically long, complex pieces that seem like stranded fragments of longer texts. They are dense and often difficult to approach without any background. They've taken this shape for many reasons. As I already indicated, it is easier to write by assuming a certain level of familiarity in your audience. Moreover, as regular readers will know, I have a certain philosophical interest in the strange, inexplicable character of the artifact, that which confronts one with an apparent intention whose content is opaque or lost. So it should make sense that I've tended to embody that aesthetic in the writing itself.
Nonetheless, I think the time has come for a change. I'll still be writing those sort of posts, but they will no longer be the exclusive or even primary content of the blog. Writing them has become somewhat difficult, as they require a certain amount of preparation and labor that I am not often able to commit right now. Moreover, I'm interested in expanding the capacities of this site, its influence and scope, its affectivity, its arsenal of interfaces. I have long admired the formal character of sites like BLDGBLOG and Boing Boing, that act as conductors of information, bringing together large quantities of variously related phenomena whose association follows certain thematic regularities. And the information so conducted thereby generates differing degrees of explication, reflection, and comment more generally. Planomenology, more and more, seems to oblige such a structure, not in the least in light of its recent explication of its mission.
So this site will likely begin looking quite different, quite soon.