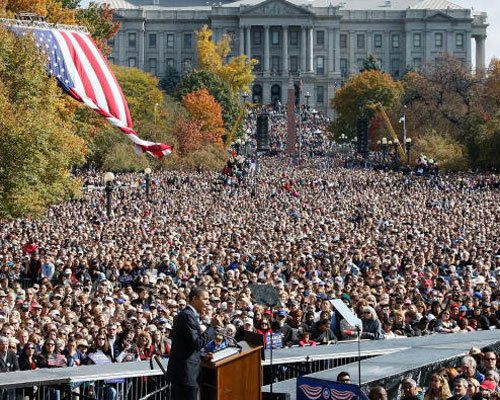 I'm going to take a break from the metaphysical debates for moment, to reflect upon President Obama's Inaugural Address. I think that here, more than ever, we see proof that Obama is not simply a hype-machine or cult of personality, but signals a dramatic shift in the nature of American politics. Perhaps even a shift in what the empty signifier 'America' itself stands for. (And no, not a 'potential' change that will likely be squandered by pragmatic centrist compromise, but an actual change that has already occurred, and that he is continuing to champion.)
Yet more than even a struggle for hegemony and so on, I think Obama carefully articulates the very sacrifice that had to be made so that this empty signifier could be so emptied, and moreover, shows us that a true politics would not simply charge it with one specific content or another, but keep it empty, so as to remain faithful to the sacrifice. Obama's talk of a shift in the very nature of politics is not cynical pandering, but an accurate assessment, as he has headed a radical change in the form of politics, from a politics of hegemony to a politics of fidelity.
Is Obama's election an Event in Badiou's sense? Perhaps, but as I've noted before, I take issue with Badiou's theory of the Event, specifically when it comes to the relation between an Event and its situational conditions, and the enigmatic nature of what he briefly describes as 'evental reccurrence'. I'm not going to solve these issues in this post, but by way of Obama's example, I hope to begin marking my difference from Badiou, which falls squarely on the concepts of 'fidelity', 'resurrection', and the ancestral.
So what better place to begin this exercise than with cynicism? Here is a clip from The Daily Show on Inauguration Day:
Jodi beat me to the punch here, but I read this video quite differently, so let me mark that difference. First of all, this video obviously takes Obama's words quite out of context, as The Daily Show is wont to do, selecting the few Bush-esque soundbites from a speech that overwhelmingly contained material Bush wouldn't utter if he was tripping on acid.
Yet I don't think this is a trivial matter, and I don't think Jason Jones is being honest with his concluding remark that, "I don't think Obama really means it, and that gives me hope." Now to an extent, he's right, Obama is simply pandering to the right-leaning segments of the country by playing on the themes of security and anti-terrorism, God's gift of freedom, et cetera.
Yet more than mere cynicism, Jones himself offers a more accurate account of these lines only a minute or so earlier: "It's like, cheese is delicious on Italian food but when you melt it on Chinese food, it's disgusting." This point, on the nature of discursive assemblages (one I'm sure Levi would appreciate), is not just a trivial quip. The context, in this case, is everything – when Bush spoke these words, it was in the context of a neoconservative fervor, whereas for Obama, the same words, and even the same referents (patriotism, security, spreading freedom), take on an entirely different meaning.
For proof of this, it suffices to look at Obama's inaugural address. Take these exemplary lines:
Now, there are some who question the scale of our ambitions, who suggest that our system cannot tolerate too many big plans. Their memories are short, for they have forgotten what this country has already done, what free men and women can achieve when imagination is joined to common purpose and necessity to courage. What the cynics fail to understand is that the ground has shifted beneath them, that the stale political arguments that have consumed us for so long, no longer apply.
Obama's point here is twofold: on the one hand, we cannot read his words in the same way as those of Bush, because the very coordinates of political rhetoric have been fundamentally displaced (this displacement is at the same time performative, as it is substantiated by Obama's electoral victory). Anyone who would look at Obama cynically has yet to realize that 'the ground has shifted beneath them', that this is no longer the same debate.
On the other hand, these same lines imply a shift not only in political debate or rhetoric, but in the very form of politics. This 'new terrain' in which we find ourselves is one in which it is no longer taboo to speak of 'big plans', of large scale political mobilizations, in which politics is about a Cause greater than oneself rather than one's selfish ambitions and satisfactions. Now you can argue that Bush also had a 'big plan', one concerned with dismantling the remains of the welfare state, while simultaneously spreading the hegemony of neoliberalism everywhere, through violent means if necessary. Yet we must remember that the basic tenet of liberal capitalism is simply that large-scale political ambitions are no longer tolerated, that the only good is that of self-interest, and that the market will take care of us.
If Bush had a 'big plan', it was that of doing away with large-scale political mobilizations, aside from the populist conservative frenzy he mustered, which had more to do with depoliticizing politics, with making all political questions into questions of morality, and ultimately religion. For Obama, however, 'big plan' explicitly means a mass-mobilization for a Great Cause, one that is irreducible to individual interests. Moreover, as opposed to moralizing politics, Obama's message is one of politicizing morality, of claiming that no, the Great American Values of freedom, equality, and the pursuit of happiness are not neutral, not simply consequences of the market, nor are they the sole property of fundamentalist churches. Rather, these Values belong to the kind of political mobilization that has always characterized the left.
Obama's next words seem to challenge this reading, returning us to a variant of (a)political pragmatism: "The question we ask today is not whether our government is too big or too small, but whether it works…" Yet here we must remember that Obama's message was never primarily one of 'fixing government', of making it 'work correctly', et cetera. This was McCain's message, one that clearly failed. Obama's message was one of mobilization, one which figured himself as the avatar and representative of a movement of people. His message is that 'change doesn't come from Washington, it come to Washington.' If Obama's administration has any explicit goal in Washington, it is to make government work for this movement, rather than against it, as it did under Bush, and really every administration at least since Reagan, if not Nixon.
This message is what Obama has repeatedly referred to as that of service, the virtue of service above security. During the address, Obama provides what is likely his most precise definition of this concept yet:
…the spirit of service: a willingness to find meaning in something greater than [oneself]…it is precisely this spirit that must inhabit us all. For as much as government can do and must do, it is ultimately the faith and determination of the American people upon which this nation relies. They have been the quiet force of progress throughout our history.
What makes this message unique is that, more than a call to serve now, in this time of crisis, Obama presents it as already a part of our history, even the part, that which is characteristic of America itself. He presents his call to service as a return to American values; he is not simply re-hegemonizing or reframing the same terms Bush used, but claiming them for a different history, the true American legacy, one which conservatives have illegitimately co-opted. These are our values, and this new era Obama wants to usher in is also an era of return, and of faithfulness or fidelity to that which has for so long been forgotten.
What is demanded then is a return to these truths. What is required of us now is a new era of responsibility — a recognition, on the part of every American, that we have duties to ourselves, our nation and the world, duties that we do not grudgingly accept but rather seize gladly, firm in the knowledge that there is nothing so satisfying to the spirit, so defining of our character than giving our all to a difficult task.
In returning to that which gave birth to us as a nation, the founding values of America, Obama gives us a vision of a newly meaningful and fulfilled life, one bereft of the nihilistic indulgence and indifference of liberal capitalism.
Moreover, the talk of security and showing force to our enemies is not a simple concession to the center-right. Obama even makes these an effect of the spirit of service: "Our security emanates from the justness of our cause; the force of our example; the tempering qualities of humility and restraint." Here we have a strange inversion of the Bush-era values of brute force and overwhelming shows of strength. For Obama, our greatest strength in the face of our enemies is our 'humility and restraint'; our greatest weapon is our 'example'. In other words, while we will not back down from threats and will continue to show our strength when necessary, we must see our very 'weakness', our passivity, restraint, and quietude as in fact stronger than brute violence; for Obama, as for St. Paul, weakness is itself a force greater than strength.
This talk of restraint and weakness aside, the 'spirit of service' may still appear problematic, raising the pressing question: how does this differ from simple populism, or a politics of hegemonic struggle? The answer lies in the crucial figure of the ancestor, which is the dominant theme of the address from the opening sentence: "My fellow citizens: I stand here today humbled by the task before us, grateful for the trust you have bestowed, mindful of the sacrifices borne by our ancestors." For Obama, the great American values of freedom, equality, and the pursuit of happiness are not empty for nothing, but because they were carried to us by the sacrifice, toil and hardship of our ancestors, who gave up everything to deliver them to us. So many had to go without freedom, without equality, without the pursuit of happiness: from the indigenous peoples, to the African slaves, to the long-suffering working class, to women, gays, ethnic minorities… If these values are 'empty' in the sense of being open to appropriation by us, it is because they could not be shared by those who delivered them to us. They are empty because they bear the negative mark of someone missing, someone who had to be absent so that we could be at all.
Obama uses striking, elegant words to capture this ancestral dimension of American values:
Rather, it has been the risk-takers, the doers, the makers of things — some celebrated, but more often men and women obscure in their labor — who have carried us up the long, rugged path towards prosperity and freedom. Time and again these men and women struggled and sacrificed and worked till their hands were raw so that we might live a better life. They saw America as bigger than the sum of our individual ambitions; greater than all the differences of birth or wealth or faction.
These are not rhetorical flourishes: they are a tribute to the dead, an elegy or eulogy, a prayer and thanksgiving. Here Obama confirms that these values come to us as the materialization of a loss, a sacrifice, one that prevents any one group or faction from claiming ownership or propriety over their meaning or content. The rightful 'proprietors' of these values have suffered and died so that we might enjoy them, so that we wouldn't have to undergo the same hardships of segregation, inequality, oppression, exclusion.
We remain a young nation, but in the words of Scripture, the time has come to set aside childish things. The time has come to reaffirm our enduring spirit; to choose our better history; to carry forward that precious gift, that noble idea, passed on from generation to generation: the God-given promise that all are equal, all are free, and all deserve a chance to pursue their full measure of happiness.
Our better history is that generic history that is the history of us all, the history that conforms to the values that made it possible. Even if these values were not realized in the past, this is not proof of failure or hypocracy, but rather, of the long struggle to carry on these truths, to shelter them from the enemies that have long threatened them, and to deliver them to a future realization.
Here we can recall the quip, oft cited by Zizek, of a Chinese dignitary when asked his thoughts on the French Revolution: "It's still too early to tell." For Obama, it is the same with the American Revolution – it is too early to claim victory, we are still fighting for this legacy, to protect it, to remain faithful to it. Hence his beautiful repetition of George Washington:
In the year of America's birth, in the coldest of months, a small band of patriots huddled by dying campfires on the shores of an icy river. The capital was abandoned. The enemy was advancing. The snow was stained with blood. At a moment when the outcome of our revolution was most in doubt, the father of our nation ordered these words be read to the people: "Let it be told to the future world that in the depth of winter, when nothing but hope and virtue could survive, that the city and the country, alarmed at one common danger, came forth to meet it."
For Obama, the spirit of service is at the same time that of fidelity, fidelity to the values for which our revolution was fought, to our ancestors who, long after the war with Britain was over, were still fighting, still struggling to protect, preserve, and someday realize those values. "We are the keepers of this legacy…"
Finally, we get one more twist on this message, which gives it a crucial difference from the kind of political liberalism to which it is so closely related. If for Obama, service means participation in fidelity to our ancestors, it is also the 'highest satisfaction of the spirit'; that is, this fidelity does not simply aim to finally realize those values that have for so long been betrayed, to finally realize freedom and equality. The twist is that, moreover, this fidelity is already the realization of these values. It is by way of fidelity or service, through service, that we are free from selfishness and narrow-minded interests, that we are all equal in our common task, and that we pursue a happiness greater and more profound than simple satisfaction or pleasure. In other words, fidelity does not terminate when we finally realize a goal, service is not a means to the end of freedom and equality, but rather, it is only through fidelity and service that freedom and equality are possible.
Obama ends the address with this very twist. Whereas he had for the duration of the speech been speaking of our ancestors, and the sacrifices by which they delivered us these values, he concludes by claiming that our task, our service and fidelity, coincides with this very ancestral dimension of sacrifice and delivery.
America, in the face of our common dangers, in this winter of our hardship, let us remember these timeless words; with hope and virtue, let us brave once more the icy currents, and endure what storms may come; let it be said by our children's children that when we were tested we refused to let this journey end, that we did not turn back nor did we falter; and with eyes fixed on the horizon and God's grace upon us, we carried forth that great gift of freedom and delivered it safely to future generations.
Service means, finally, that we must carry on and preserve these values for future generations, that we cannot do this only for ourselves, but for the future, so that there might be a future for our past, for our ancestors. To do them justice, to redeem their sacrifices and suffering, would mean to make that for which they died an eternal gift to the future, to a people yet to come.